Over a hundred techies responded to my question: "folks with Linux and Macs, what's your ideal solution to work on both?" That's a lot for a quick 3-day poll.
From the look of it, most use a physical KVM switch, which is also what I opted for. I had one that I hadn't used in a while, and I was happy to see it's still working.
Here it is, in all its… glory…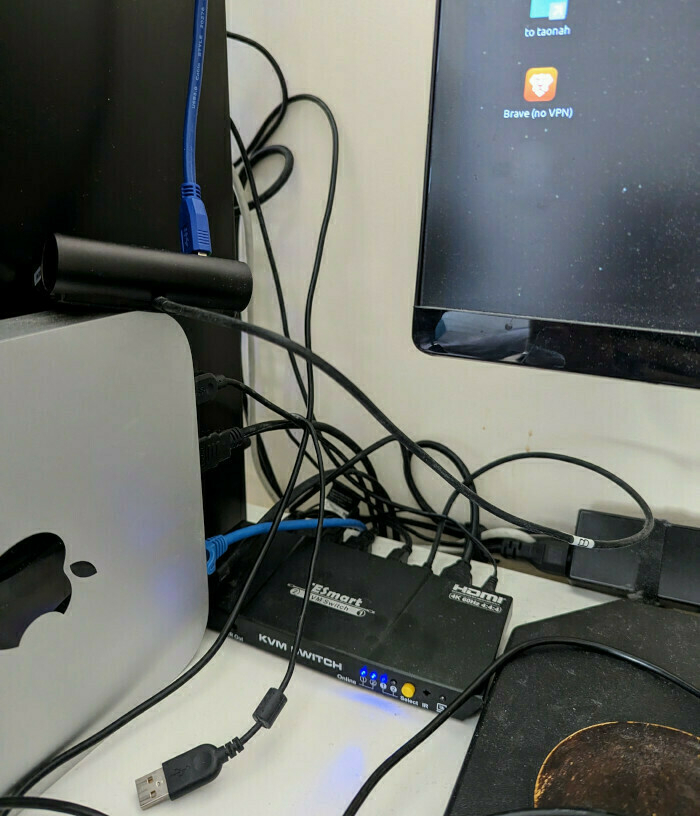 OK, I know! The wires! It's screaming for help. I just finished plugging in everything to make sure it all works. I wanted to test different peripherals, and having a moving standing platform (screen and keyboard) is tricky.
Factors in favor of a KVM switch:
I already had one, so I wanted to try it out
I have one screen and one keyboard (though I also have a magic mouse for the Mac)
I wanted to listen to music on the Mac, so that ruled out plain VNC
I want to work with movie clips, and VNC can be a bit slow with animations
This being a work machine, I feel better not installing any more software than I already have on it.
So far, it works better than expected!
When I tried the KVM switch with a different keyboard, it didn't detect it in the dedicated keyboard USB. I believe this happens with some gaming keyboards. My current keyboard works without an issue. I can use the USB port on the switch to plug in my headset, which allows me to rock to AC/DC (or Bruckner, depending on my mood) while working.
However, Plugging in a USB hub to the KVM switch so I have more than one USB port available, causes issues when connecting additional devices. I'm not an expert, but daisy-chaining a USB port to a USB port to a USB port will is probably not a good idea. Fortunately, I think I can get by plugging peripherals into the computers directly.
I plan to try it for a week or so and see what problems I run into. The Mac is my primary work machine, which allows me to be even more productive away from the office. It also means my Linux machine is free from all kinds of propriety software from Microsoft.
I need to clean up the wires and I'm good.